Meet Shemales In Costa Rica In San Jose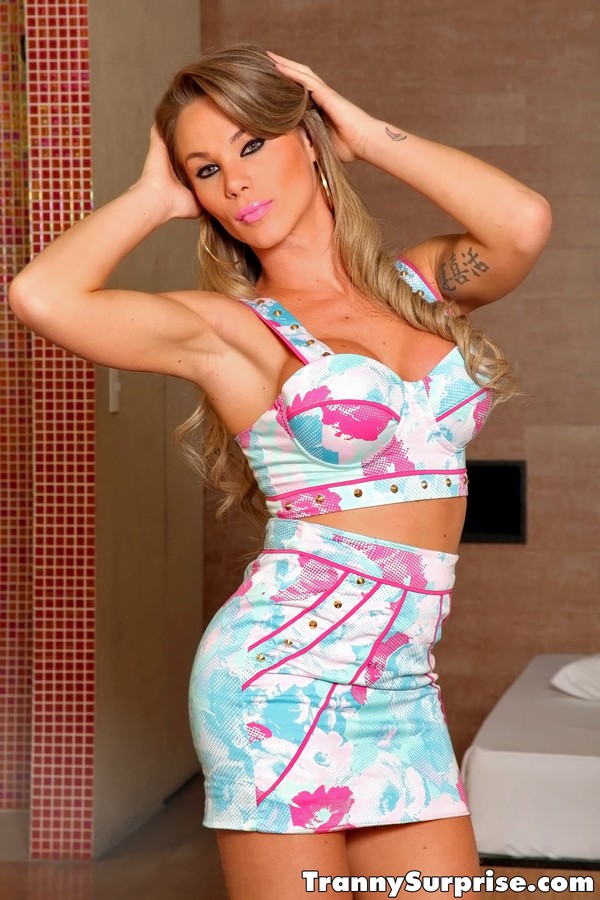 People who want to meet shemales in Costa Rica can do so in San Jose. This the capital city of the country and the best city for transgender nightlife.
With that said it still should not be thought of as a great or easy place to meet trans. There are not as many Costa Rican shemales in San Jose, there are just more here than other cities like Jaco.
Like in many cities around the world the trans prostitutes at the red light district will be the easiest to track down. There is a main red light district where much of the adult entertainment in this city is, and it is also where many single male tourists stay.
We aren't sure if the tourists came first or the prostitutes did, but either way this is now typical to many red light districts you find. There are bars with prostitutes, sex massage parlors, and Costa Rican shemales near you who are also sex workers wanting to be paid.
Most of the LGBT nightlife in San Jose is filled with gay guys and lesbians, trans are not common at all. There are some bars that do hold drag shows or trans events, but again they are in the minority. We will tell you some of your best options for ts pick up bars and nightclubs, but don't have too high of expectations.
If you visit Jaco or other cities then finding shemales will be even harder. Again your best chance would be to hang around any red light districts looking for trans prostitutes, or searching online for escorts or transgenders for dating and we will tell you about a good t4m dating site for that.
It is important to note that you need to be searching for travesti in Spanish speaking countries.
Limited LGBT Nightlife
There is some LGBT nightlife in San Jose but shemales are not a big part of it. There just isn't a huge transgender community in Costa Rica at this time, but then again this country doesn't really have a huge population so that should be expected. Even if things are dim here at least it is easier than in Panama City.
Like in many cities around the globe you will need to hit up these LGBT bars that are mostly filled with gay guys and hope that some transsexual cross dressers show up. Some nights you might get lucky, others you might be wasting your time.
There are a few that put on live drag shows and obviously when those are going on would be a good time to visit. Not only to try to meet the shemales in the cabaret, but also in hopes that more trans will be coming out for the show.
Many of the best LGBT nightclubs are located near the Teatro Nacional so try to stay in this area if you want to party a lot. Some of the best pick up bars and nightclubs to meet Costa Rican shemales in San Jose would be:
Club El Teatro is known to put on some of the best drag queen shows in San Jose. La Avispa holds the annual Miss Costa Rica Gay event, you can check the links that we gave to see if they have any upcoming transgender events planned.
If anyone knows of any good LGBT nightlife or drag shows in Jaco or other cities around the country that may be underground ladyboy hot spots please post them in the comments.
Shemale Prostitutes In Costa Rica
The current sad truth about trying to find shemales in San Jose, Costa Rica, or most places on the planet these days is that red light districts and prostitute zones are the easiest places to locate them. It isn't that there are more trans sex workers, it is just that they are more easy to track down.
They troll the same streets each night so if you need a specific location to pick up a travesti a red light district is the easiest place. There was a recent breakout of violence against San Jose shemales but hopefully that won't last too long.
For Jaco shemale prostitutes you probably will want to hang out in the area where all the female prostitutes are, the trans will probably also be there. They may not be let into the bars but they should be on the streets.
You can also find Costa Rica shemale escort services online. Remember to search for travesti escorts, but shemale or ladyboy should also work.
Dating Shemales In Costa Rica
This is not a huge country and it does not have a very big population. That means there aren't many transgender people around so tracking them down can be pretty hard.
One of the best things about the internet and modern technology is that it really speeds up the process of doing many things. To meet shemales in Costa Rica online try using MyLadyboyDate.
This is the largest transgender dating network in the world and if you are going to have a chance at meeting ts girls in this country who aren't hookers it will definitely be your best option. You can find more trans on dating apps or Craigslist in the t4m area, but they are likely to be hookers.
MyLadyboyDate is where you can find the genuine trans in Costa Rica who are best for dating, and of course there should be more travesti in San Jose than anywhere else. This site is growing at a rapid rate as the transgender movement strengthens worldwide.
Now you know of all the best ways to meet Costa Rican shemales, San Jose for ts dating or hook ups, hopefully in the future there will be more options.