Using PinaLove to Find Filipina Ladyboys Online
Using PinaLove to find Filipina ladyboys online is very easy and is highly recommended for any guys who are wanting to meet trans in the Philippines. If you have never used this site before it is one of the most popular dating sites in the country, and they have a sister site ThaiFriendly which is the biggest site in Thailand.
There are actually quite a few people out there who still think online dating is a scam, but that is definitely not the case here. Between these two sites there are tens of thousands of users if not more, and they are very real and very legit.
Online dating is more popular now than ever before, and for guys that want to find Filipina ladyboys PinaLove is one of the best sites they can use. There are many transsexuals on the site and you can easily change your search settings to only show trans users.
Plus Filipina trans are so active that they will probably be the ones who end up finding you. This post will not only about how to find them, but also how to hook up with ladyboys once you get in contact with them.
That will be the harder part, but in truth that shouldn't be very difficult either. The most important thing you can do is sign up for the site and since you already know about it you have pretty much already won.
Finding Filipina Ladyboys Online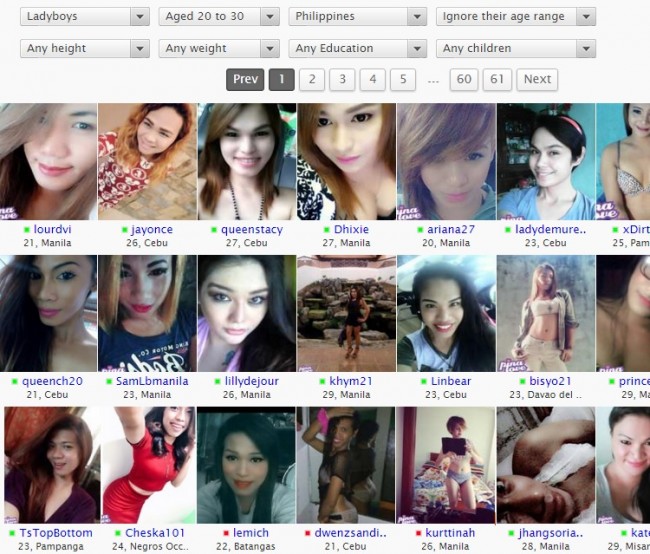 There are two main dating sites we suggest when it comes to finding Filipina ladyboys online. PinaLove of course, and MyLadyboyDate. Either one will work very well, one is only used to find trans while the other is used to find anyone, but since this post is all about PinaLove we will only focus on that.
As mentioned before you can search only for ladyboys, in fact right at the top left of the search setting the first thing they ask is who you are searching for. You can click girls, girls or ladyboys, or ladyboys, and that comes down to personal preference.
If you click ladyboys only then you are pretty much on a strictly Filipina ladyboy dating site. Message whoever you think is sexy and get a conversation going.
You will be able to find Philippines ladyboys in all of the major cities like:
Manila
Davao City
Boracay
Bohol
Palawan
Puerto Galera
Subic
Bacolod City
Cagayan de Oro
Baguio City
In some of the smaller cities there may not be too many ts girls around, but if they are out there this will be the best place to look.
Messaging Trans Online
Ladyboys are definitely a bit naughtier than girls, but you still should try to keep your chat appropriate, at least until you know that they are open to some sexual talk. Don't treat them like a sex object, be polite and courteous, particularly if you are hoping to start a long term relationship with them.
If all you want to do is find one for a sex cam chat then that might be a different story. But if you want to meet and hook up with Filipina ladyboys you should be treating them with respect.
They may be the ones who turn the conversation in a sexual manner and if that is the case then go along with it, but don't be a pervert until you know they want you to be.
Dating Ladyboys From PinaLove
In truth messaging and dating them are going to be very easy. Be polite, be talkative, and treat them in the way that they want to be treated. That means act like you are on a date with a lady and treat them as such.
Meet them for a coffee or take them out to dinner if you feel comfortable with that. Some guys reading this may not really want to be seen walking around in public with a trans yet, if that is the case just explain to them that you aren't used to it and see if they will come over to your place.
They are likely to be very eager to meet and often eager to hook up, so all you really need to do is be in the Philippines and in the city they are in and dating will be easy. It should be pointed out that many Filipina ladyboys are prostitutes, but that is as much out of circumstance as anything else.
This is a very poor country and people do not have many good opportunities to earn money. Then add in that transsexuals might have a harder time finding a well paying job than the average person and you can see why so many turn to prostitution.
This is a very tolerant country towards the LGBT community, but when it comes to hiring them that isn't always the case. If a Filipina ladyboy off PinaLove is a little too eager to come to your place there is a good chance they are a sex worker who wants to get paid, but that isn't always the case and they just might want to hook up.
You are much more likely to meet a genuine ladyboy online who isn't a sex worker than out in public. Sadly most of the trans hot spots in the Philippines are located around red light districts, and of course any ladyboy in a red light district will want to be paid.
Lots Of Options On PinaLove
There are many options for dating Filipina ladyboys on PinaLove. It is extremely quick and easy to sign up for the site, and takes 1 second to change your search settings to ladyboys only.
If you want to get the most out of the site and use it in the most efficient way you will need to pay a little bit of money, but on a monthly basis it is not much at all. It can be used for free, but paying members can send out unlimited messages and get many more perks that make the small cost very worth it.
Now you know how to use PinaLove to meet Filipina ladyboys and can start finding the right trans for you at any time.