Best Places To Meet Shemales In Tijuana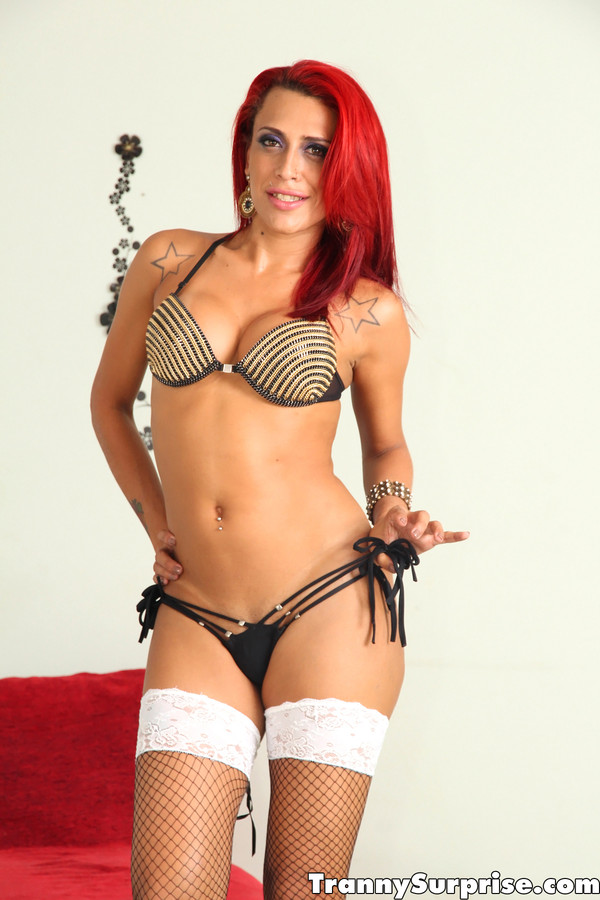 The best places to meet shemales in Tijuana mostly revolve around transsexual prostitutes. The red light district here is famous worldwide, and where there are female prostitutes the trans will follow.
So many guys from the US cross the border every weekend to let loose and party hard. They come in with lots of American dollars to spend and throw them around like play money because to them everything is so cheap in Mexico.
But to the shemale prostitutes in Tijuana they are spending big bucks, and Mexican transgenders from all across the country come here for that easy money. They may also have a thing for gringo dick as well, but the money is probably the biggest draw for them.
We aren't saying that 100% of the shemales you meet in Tijuana are prostitutes, but a very high percentage of them will be. That doesn't necessarily mean that you can't find a nice, genuine ts girl near you for dating either, but making a ho into a housewife has been attempted many times and rarely works out well.
This post will give you some ideas of how to find a good transgender for dating, but in a town like this we mostly have to focus on the prostitution and red light entertainment. That is what this city is all about after all.
One important note, travesti is the word for shemales in Mexico and in most Spanish speaking countries. If you take our later advice and do your hunting online be on the lookout for travesti.
Shemale Prostitutes In Tijuana
We don't really enjoy writing posts like this that are mostly about prostitution, the goal of this site is to help guys find transgender life partners or trans to date, not to promote red light activities. But when it comes to Tijuana shemales the prostitutes are the biggest part of the story so they must come first.
At the main red light district they should be out in force. Here you will find all sorts of strip clubs with short time rooms attached where you can have sex, they are pretty much brothels but are often referred to as strip clubs.
You won't find transsexuals at most of the popular strip clubs here, the ladyboys will be out on the street pounding the pavement. As you walk around anywhere in the red light area there will be trans prostitutes near you.
Some of the locals call one area Tranny island and they will be roaming the streets all over this section of town, but it does need to be pointed out that this is not really the safest place for you to go. Right in the middle of the red light district you will be safe, but the further you walk away from it the sketchier these streets get so be careful when searching for trannies.
You can also find shemale online escorts by doing a Google search for shemale or travesti escorts in Tijuana.
Trans Bars & Drag Shows
Many of these are more like LGBT bars where you can sometimes find Tijuana trans to try and pick up. There used to be some live drag shows like Tijuana Garage but they closed down recently.
For some LGBT bars where you might find some shemales head to:
Hawaii Bar is known for sexy trans strippers in Tijuana. In case anyone is wondering you do not need to search out shemale friendly hotels in Tijuana, if you have cash they will open their doors for you.
There is an LGBT nightlife area near Plaza Santa Cecilia where you might also have some luck finding ts girls. Like always be careful when searching the streets in this city. If you are reading this from San Diego you don't need to cross the border to meet trans or see drag shows.
Dating Tijuana Shemales
Now for the guys who are hoping to find a Tijuana shemale for dating or to make their life partner. Lets start off by reminding you that even if you meet a transgender here there is a good chance they are a hooker or they were once.
That doesn't necessarily mean they couldn't make a great ts life partner, but the odds are pretty slim. The biggest trans dating network in the world is MyLadyboyDate and it will definitely be your best chance.
However if you are reading this from California or anywhere in the US we would suggest that you have a better chance of meeting a good trans for dating outside of this city. Like we mentioned before, a ho doesn't generally make a great housewife.
There are plenty of sexy transgenders all over Southern California on MyLadyboyDate, and thousands across the US. You will find plenty for ts dating in Tijuana, and there will be hundreds across Mexico if you are reading this north of the border.
Now you know about the best places to meet shemales in Tijuana, go and try to make the best of them.