Best Places To Meet Transgenders In Toronto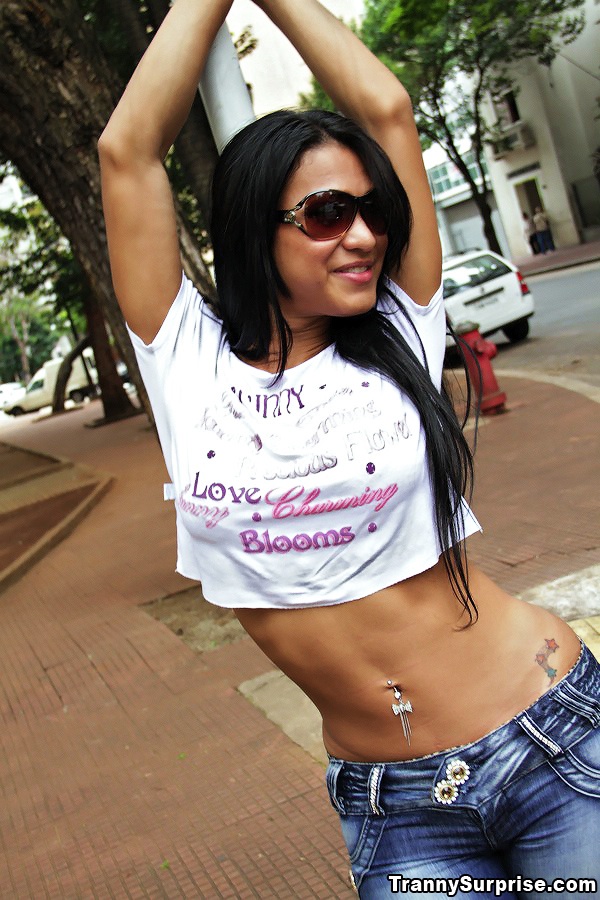 The best places to meet transgenders in Toronto are going to be up there for the best in Canada and also North America. The Church-Wellesley Gay Village has had some of the best LGBT nightlife on the continent for many years and that still holds true today.
There are many LGBT bars and nightclubs in this city and plenty of them put on live drag shows and have local trans events. Later we will mention some of the most likely shemale bars in your area and link you to their websites, you should check them out and see if any special transgender events in Toronto are going on when you are in town.
If there are then great, you will have an easy time. If not then you will be cruising some gay bars or drag queen cabaret's hoping to find some sexy ts girls near you who are out looking to hook up.
Even though there are more transgenders out in Canada than ever before that doesn't mean you can just snap your fingers and find one. For guys who are looking to speed up the process or avoid the Gay Village nightlife we will also mention a ts dating site that is growing at a rapid rate.
Plus there are local trans escort services if you were just hoping to pay for a quick ts sexual encounter, but that is not what this post is really about. Just like in our posts about transgender nightlife in Montreal or Ottawa we want to focus on genuine hook ups and serious ladyboy dating, not paid for encounters.
LGBT Bars & Drag Shows
We already mentioned it but much of the best LGBT nightlife is located in the gay village of Church-Wellesley. If there are sexy Toronto transgenders out looking to party then this would be the most likely area of town to find them in.
There are no guarantees in life, but all you can do is put yourself in the best position to succeed and partying in this area would do exactly that. Below we are going to list some specific bars that are known to put on the best live drag shows in Toronto:
We suggest you check out their websites or Facebook pages and see if they mention any upcoming trans events. If you visit on the right night there might be many hot ts girls to potentially hook up with.
If you visit on the wrong night there might not be any trans out partying at all. Once again these aren't full on shemale bars or clubs in your area, but any time they are putting on a drag show would certainly be a prime time to visit. For instance Glad Day is known to put on a fantastic drag brunch, while The Drink has daily drag shows and is a fun place to go dancing.
Not only do you want to try to time your visit to try to hit on the sexy cabaret performers but also in hopes of there being more Toronto ladyboys near you partying in the crowd. Curious about where to meet transgenders in Vancouver? That link has the answers, and this one covers Edmonton.
Plus there will be many parties going on during Pride in June that will give you plenty more options to find hot t girls.
Trans Escort Services
The world has changed so much in the last 20 years and nowhere is this more obvious than in the sex trade. Most of the prostitution around the globe is done online these days, and that is particularly true when it comes to trans prostitutes.
If you go to Google and put in any form of trans escorts in Toronto, transgender, shemale, ladyboy or ts you will find so many escorts looking for customers. We don't really recommend going this route but still thought it was worth mentioning.
A lot of the Asian ladyboys near you will offer ts massage service, but there are better ways to use the internet to speed up the process.
Meeting Toronto Transgenders Online
While the internet will make it easier to find ts escorts it will also make it easier for you to find good and genuine opportunities for trans dating. Most guys probably aren't going to be wanting to pay prostitutes, and we hope most of our readers are more interested in finding a life partner or at least a free hook up.
The best ts dating network in the world is MyLadyboyDate and there are plenty of local transgenders in Toronto using it. Plus there are many more trans all over Canada, you will not be lacking for options.
We know that many guys aren't going to be comfortable going out to party at the Gay Village. Not only because you may not want to be seen there, but also because those are mostly just gay bars and the ts girls in your area are going to be few and far between.
We also hope that the trans escorts aren't what you are looking for either. Why just pay for a quick one off when there are plenty of Toronto ts girls out there looking for a life partner or a friend with benefits.
You might think that dating a trans isn't something you are ready for, but in truth it is no different than dating a girl. They want to be treated like a lady so just do that.
Be nice, be polite, and try to relax and have a good time. If you are too shy to be seen in public with them at this time invite them over to Netflix and chill. Of course that has some sexual implications, but they will understand that you may not be comfortable yet, and they may also feel the same way.
MyLadyboyDate will help you contact more Canadian ts for dating in one or two hours then you probably have ever seen in your life up to this point. Then you can start chatting with them to build a strong long term relationship, or just invite them to hang out and try to hook up quick. With so many ts users on the site you will find all types here.
Now you know of all the best places to meet transgenders in Toronto for dating or hook ups, it is on you to make them work for you.