Top 10 Places To Find Ladyboys In Bangkok
Millions of horny guys fly into Bangkok to find and have sex with Thai katoeys, the best ladyboys in the world. You don't even need to leave your house, there are thousands of eager TS girls on sites like MyLadyboyDate who will be happy to come over to your place.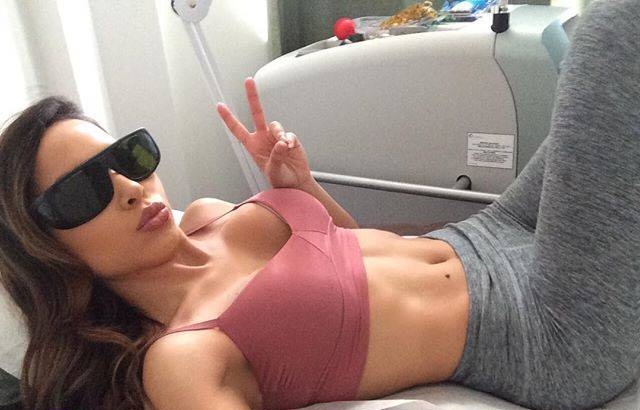 Top 10 Tranny Treats In The Thai Capital
If you do go out to experience the famous nightlife in the 'Big Smoke' of Bang-C0ck, however, or are looking for P4P, below are the top ten venues to find ladyboys.
Most ladyboy prostitutes can be found along Sukhumvit Road (a very long road) which has numbered side-streets or 'Sois'. The main naughty nightlife part is around lower Sukhumvit Sois 1 – 33.
#1  Sukhumvit Soi 4
One of the main red light districts, tons of ladyboys can be found all along Soi 4, also known as Soi Nana. It's a short walk from Nana BTS station (the skytrain). So get off there or just tell a taxi Soi Nana, they'll know it. Taxis are very cheap in Thailand.
Walking onto Soi 4 you'll see the Nana hotel sign on your right, lots of girls and ladyboys hang out there, they'll be standing around. These are freelancers, you can just pick them up and take them to your hotel or condo.
A new ladyboy nightclub has opened up too called 'Equality', where Nana Liquid used to be, further down on the right a short walk past Nana hotel. It caters to the LGBT crowd, transsexuals, and western guys.
#2  Lumpini Park
This one ranks highly as by night some of the cheapest freelance hookers you can find stand around on the outskirts of Lumpini Park (the park is closed after dark, so on the roads around it). Many are ladyboys.
Only Thai clientele know about these cheap deals, you'll see them slowly drive by in cars or on their motorbikes, and pick up a girl that takes their fancy. There are short time hotels nearby for 260 Baht, the girls can direct you.
#3  Nana Plaza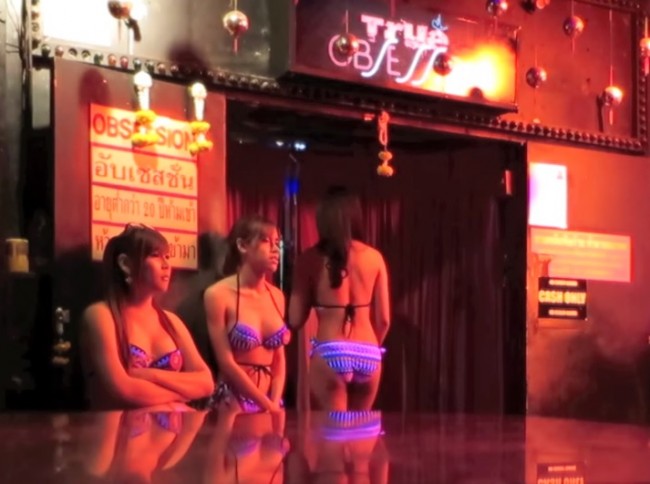 Also on Soi Nana, but ladyboys in the plaza will be gogo girls rather than freelancers, so might be a bit more expensive when factoring in the cost of the barfine.
Nana Plaza is on the left 50m into the Soi, opposite the Nana Hotel sign. There are several ladyboy-only gogo bars spread across the three floors, they'll be easy to find as stunning ladyboy models stand around in bikinis grabbing your junk as you walk past.
Here's a full list of the ladyboy gogos on Nana Plaza.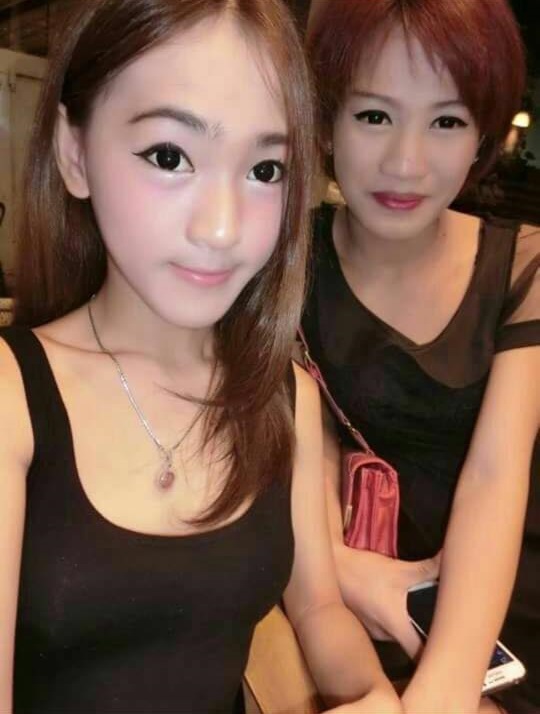 #4  Asok Interchange
The Asok Interchange is a large crossroads where Sukhumvit Road meets Ratchada road, and the BTS meets the MRT (underground subway).
On the East corner before the entrance to Soi Cowboy is a cluster of small street stalls that sell beers, they spring up at night and many of the barmaids are hot transsexuals. Beers are cheaper here.
There's a short time hotel to the left of the entrance to Cowboy for 300 baht (~$10) an hour, you can take a ladyboy there if you're feeling horny by this point.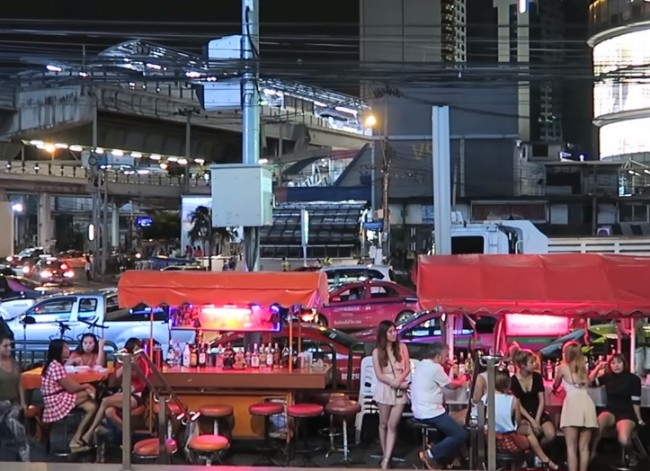 The streetside bars also have a slightly cheaper barfine, 500 baht compared to 700+ in a gogo.
#5  Soi Cowboy
Soi Cowboy is an alley linking Ratchada Road to Sukhumvit Soi 23. You can't miss all the neon signs and gogo dancers.
Most of the gogo bars are full of girls but there's one excellent gogo bar with 100% transgender dancers, called Cockatoo. Bangkok112 on Youtube did an excellent video on it below.
You can walk to Cowboy from Nana in 10 mins or it's one stop on the skytrain. It can be hard to find a taxi that uses the meter, but is a good area for walking as lots of ladyboys can be bumped into on the way. You can also buy cheap kamagra from the street stalls, which keeps you rock hard for a night of anal.
#6  Sukhumvit Soi 11
Soi 11 is more of a nightclub and massage scene rather than gogo bars and freelancers standing around. As you walk 50m into the soi you'll see some massage girls in an alleyway on the right by Villa Market.
Lots of these masseuses are shemales and they can give you a happy ending, blowjob or full service, right there in the massage shop.
Then when it gets late a lot of Bangkok ladyboys head to Climax nightclub to let their hair down, that's in the middle of Soi 11 on the right underneath the Ambassador hotel. You have to walk down underground into the car park, or any taxi will take you for free (they get a commission per person).
Probably the best site to pipeline Thai ladyboys on before you go is Thaifriendly, ask to take them on a date to Climax, or Levels if you really want to impress them (a flashy club further up Soi 11, by the Aloft Hotel).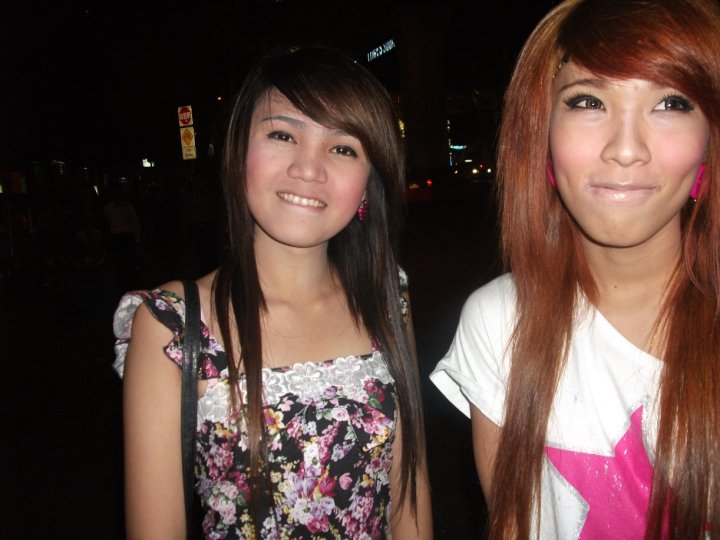 #7  Sukhumvit Soi 15
Not down Soi 15, but just left of the entrance, on the corner of 15 and Sukhumvit Road, is the Ruamchitt Hotel (which has short time rooms to take hookers too for a couple hours at cheap rates) and underneath that you see some steps leading into a basement bar.
That's Thermae, a popular freelancer spot. They don't allow many ladyboys to enter, so there ends up being a ton of them hanging around outside the entrance, at the top of the stairs and on the street by the entrance to the pool bar on ground level.
A great spot to pick up a cheap freelancer, they should go for 2000 Baht or less if they like you, then the hotel's right there or you hop in taxi and take them to your room.
Also if you walk towards Cowboy, just pass Soi 15 you should see Holly's Coffee shop on the left, lots of ladyboys like to hang out there for the comfy seating and air con.
#8  Sukhumvit Soi 22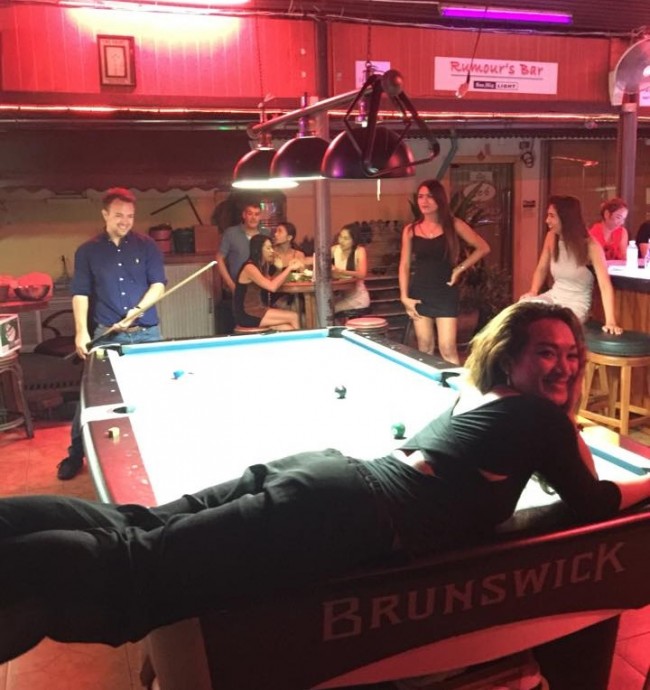 Soi 22 is also a good spot, it has a mini maze of beer bars called Queens Park plaza, you'll find it 100m into the soi on the right, after a bunch of other bars.
Beer bars are a chilled out sit and play pool / connect 4 with the girls kind of vibe. Sometimes it's nicer to sit and talk to working girls that are fully clothed instead of half naked on stage. Lady drinks are cheaper too.
Rumour's Bar (above) has a few hotties. There are also many ladyboys just walking around or working at the smaller bars at the start of the soi, or in one of the many massage parlors opposite Queens Park Plaza. The ones tucked away in the alleyways do Nuru massage, and full service.
If you're taking a MyLadyboyDate date to Soi 22 and keeping it classy, take her to Bangkok Betty restaurant at the start of the soi on the left.
#9  Silom Road
Plenty of ladyboy freelancers hang around Silom Road near the entrances to the two Patpong Sois, and 'King's Corner' is a ladyboy gogo in Patpong.
Silom Soi 2 and 4 are gay nightclubs and bar areas, for ladyboys the Patpong Sois are a better bet (a short walk West along Silom Road).
#10  Khao San Road
Young Western backpackers flock to Khao San Road for the cheap drinks and student party atmosphere. It isn't much of a prostitution-focused area, but ladyboys will go anywhere foreign guys go. You'll soon find one.
Be a bit careful of the ladyboys around Khao San as they can be more aggressive since they're not picking up paying customers as often here as in Sukhumvit or Patpong. Some of the Khao San Road partygoers are fresh tourists to Thailand and may not realise they're going home with a katoey.
More On Sexy Ladyboy Massage
When trying to find spas for ladyboy massage in Bangkok there are a some other areas that you can be looking. Most of them are right there on or near Sukhumvit Road between the two main red light districts in the city.
Guys from around the world come to this city to have experiences they can't have in their home town. A real Thai ladyboy massage certainly isn't something that is easily found around the globe.
Some guys may be looking for an erotic massage with happy ending. That will probably be offered to you at many of these ladyboy massage spas. Sex, a blowjob, or a handjob will probably be available, but that is going to be what happens between two consenting adults and not any of our business.
We are simply going to be pointing you to where you can find a nice body rub from a sexy TS girl, the rest is between you and them.
Easy To Find A Good Spa
The easy to find ladyboy massage parlors in Bangkok are all located on or near Sukhumvit. This is the main road in the city, at least as far as most tourists and guys looking to enjoy the nightlife this city is known for are concerned.
The above Youtube video was taken of a ladyboy massage spa right on Sukhumvit Road between Soi 5 and Soi 7 called Mantra. There are sexy trans offering Thai and oil massage all day every day, and thousands of guys will walk past them and many will decide to partake.
Soi 7/1 would probably be the second easiest place to look. This is a small little Soi with many different types of adult entertainment ranging from blowjob bars, nuru massage parlors, and yes ladyboy massage is available as well.
Walk down Soi 7/1 and some sexy trans will be waiting to greet you as you pass by. Soi 4 and Soi 5 also have many different spas, some of which will employ ladyboys.
As will the alley that connects Soi 13 and Soi 11 that we talked about in #6 above. An easy way to find this alley with ladyboy massage spas is to walk down Soi 13 and take a left just before you hit Trendy Condo.
There are many one or two woman spas here, and some of them will have transsexuals working. There is an area in Pratunam on Ratchaprapop Soi 8 that also offers ts massage, but it is pretty far away and may not be worth traveling to if you are already near Sukhumvit.
Bangkok Ladyboy Massage Online
You can search for Bangkok ladyboy massage online and find plenty of options. Of course most of these will be trans escort services that list massage as one of their services.
If you go that route a full service sex massage will be guaranteed, or a simple blowjob or handjob happy ending will also be available. We are not in the business of promoting prostitution here, but a quick online search will lead you to all of the options you are looking for.
What are your favorite places to meet ladyboys in Bangkok? Let us know in the comments.
Dating Sites for Bangkok Ladyboys
Since there are so many ladyboys in Bangkok the main Thai dating site ThaiFriendly has a lot of ladyboys signed up and allows you to filter for transgender profiles. If that's still not enough action though there's also specialist ladyboy dating site MyLadyboyDate which is usually the one we suggest.